Bankroll Management & Units Approach
Discipline and bankroll management are key aspects to ensuring your bankroll is around long enough to enjoy and watch grow. All too frequently you hear of individuals who end up losing money even though the majority of their selections have won. This "timing the market" approach is a bad habit to get into. While riding a winning streak can be fun, it is a dangerous approach to accumulating profits. Wise Gentlemen Sports applies the following techniques to its selections:
1 unit play: Our most common play. Apply a standard "to win" amount to each selection. ($15 to win $10 at -150; $13 to win $10 at -130, etc).

2 unit play: Reserved for only the most confident selections. Apply 2x the standard amount
Units Returned & Return on Investment
Many sites utilize, measure, and present units returned differently. It is important to understand how each service calculates its units so as to make them comparable across different providers. Many services will employ the use of "mega" unit plays to try to play catchup after a few losses. For example, after sustaining muptile losses on 1 unit plays, a service may release a 5 unit play (5x the amount of a 1 unit play) in an attempt to make up for the losses. This can quickly accelerate losses and using the "we will hit a win eventually" approach is a strategy best left for the high-roller on the roulette wheel. Wise Gentlemen Sports uses a simple 1 and 2 unit approach as we feel it reduces the amount of volatility and risk compared to the "mega" unit approach and allows us to seek out a more consistent trend over time.
While it may seem that units returned and return on investment should move in lockstep, that is not always the case. Units returned, by itself, does not account for the amount of risk. Refer to the chart below which demonstrates how units are applied and measured.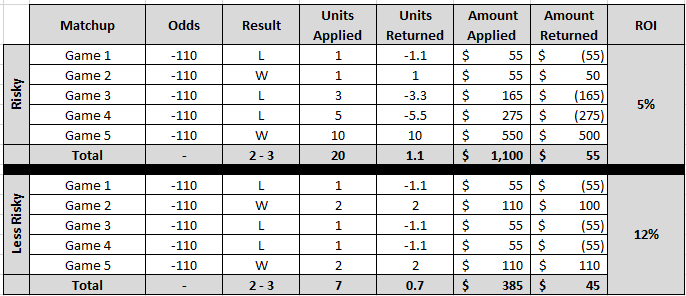 As you can see in the example above, each went 2-3 and returned approximately 1 unit (1.1 and .7, respectively). The difference is that the risky play risked $1,100 to earn 1.1 units and $55 profit. Conversely, the less risky play risked $385 to earn .7 units and $45 profit. While on the surface it may seem as though 1.1 units returned and $55 is better than .7 units returned and $45, one needs to consider the amount of risk incurred to get you there. As such, units returned is often not a great metric to gauge performance. Return on investment is a better indicator of the amount of risk incurred to generate profits. As can be seen in the example, the less risky play actually returned a better percentage relative to the amount invested ($45/$385 = 12%). The risky play was a game 5 loss (10 unit play) away from being down 18.9 units. Not all returns are created equally and it is important to consider the techniques employed by different sites.